Visit New Mexico for a unique family vacation filled with exciting activities like skiing, hiking, shopping and sight seeing. Adventure awaits at every corner. Native American culture abounds. National and state treasures are easy to find. And history is created every day. You find them all here in every one of New Mexico's six regions. South Valley's best FREE dating site! 100% Free Online Dating for South Valley Singles at Mingle2.com. Our free personal ads are full of single women and men in South Valley looking for serious relationships, a little online flirtation, or new friends to go out with. Start meeting singles in South Valley today with our free online personals and free South Valley chat! South Valley is full of. Classifieds dating ads 100% Free Online Dating Site & App Circle Match Dating Site, offers you the opportunity to simply accelerate the process. By finding for you who is your best match and maybe your life partner. Circle Match Dating Site & App is 100% Free Login and Register without credit card.
After seven months of renovations, Rio Grande Studios became a reality.
"We wanted to build it for national acts to experience New Mexico, but also the local acts to be able to raise the game and help them become better artists without having to leave town to get a good recording," Riley said.
The studio has had clients like Netflix, Disney and Lionsgate. Riley said they like those big jobs to help keep them open for the local talent.
Albuquerque artist Ryan McGarvey has recorded several times at the studios and has gained much acclaim in Europe.
"Didn't even really realize that it was just right here in the heart of Albuquerque," he said.
Christian Singles of Southeast Wisconsin (45-60ish) Christian Singles of Southeast Wisconsin (45-60ish). Waukesha County Countesses. Waukesha's best FREE dating site! 100% Free Online Dating for Waukesha Singles at Mingle2.com. Our free personal ads are full of single women and men in Waukesha looking for serious relationships, a little online flirtation, or new friends to go out with. Start meeting singles in Waukesha today with our free online personals and free Waukesha chat! Waukesha is full of single men and women like. Someone You can Love is Nearby. Browse Profiles & Photos of Singles in Waukesha, WI! Join Match.com, the leader in online dating with more dates, more relationships and more marriages than any other dating site.
McGarvey said his experience there was different, which was exactly what Riley and Newman were going for with every decision they made.
"It was renovating something, but not trying to perfect it," Newman said.
Artists like Jon Foreman from Switchfoot, Aaron Gillespie from Underoath, DJ duo Loud Luxury and legendary bass player Carmine Rojas are just some of the talent that have set foot in the studio.
McGarvey said the studio is starting to gain some attention from notable people
"They've even been like reaching out to other people they know now saying 'Hey, you should go to Albuquerque. You should go record at this place now because it's way better than the stuff that you think you need to be paying this outrageous top dollar pretentious fees'" McGarvey said.
To learn more about Rio Grande Studios, click here. You can also find their Instagram here.
History of the Near North Valley
Updated August 14, 2018

Early postcard showing the Albuquerque Indian School ca. 1900.

The North Valley of Albuquerque lies in the flood plain of the Rio Grande. There may have been as many as sixteen sites in the Albuquerque area farmed by Pueblo peoples in prehistoric times, growing corn, beans, squash and cotton in the rich soil. When the Spanish colonial government established La Villa de Alburquerque in 1706, families established farms and ranches throughout the North Valley. They introduced a variety of vegetables, fruits and domestic animals to the agricultural economy. Family settlements were established in the North Valley beginning in the 1750's, including Los Duranes, Los Candelarias and Los Griegos. Chapels built by these settlers became centers for small villages. Irrigation ditches were built to bring water to the fields. While periodic flooding by the Rio Grande sometimes displaced these settlements, subsistence farming and ranching continued throughout the Spanish and Mexican period. After the American conquest in 1846, additional farms were established by newcomers from the Eastern U.S. and Europe. In 1904 U.S. Marshall Creighton Foraker built a 2-room structure on a 60-acre farm just north of the Albuquerque Indian School. Two additions resulted in the 2-story farmhouse which was destroyed in a fire in 2007. Another building of historic interest is the Capilla de Santa Cruz, a family chapel on Los Tomases Drive, built in 1910.
Capilla de Santa Cruz, 2010. Photo by Marie NaVeaux
The arrival of the Atchison, Topeka and Santa Fe Railway in 1880 connected New Mexico to the national economy. The Santa Fe railroad was built along the eastern edge of the valley, bypassing the original Villa (Old Town) and creating a new town. New Albuquerque (now Downtown) soon grew into a commercial center for the whole territory. Cattle, sheep, wool and farm crops raised for export affected the pattern of land use in the valley. A railroad spur brought timber to the American Lumber Company sawmill, built north of Old Town in 1903. The sawmill and the railroad became sources of wage work for many North Valley workers.
The Albuquerque Indian School began as the Indian Pueblo Training School, established by the Presbyterian Church in Duranes in 1881. The following year, Albuquerque businesses raised $4,300 to purchase a 66 acre campus at what is now the southeast corner of 12th Street and Menaul Blvd In 1886, control of the school was given to the U.S. Bureau of Indian Affairs. The Presbyterian Church obtained another tract of land to create the Menaul School as a boarding school for Spanish American students from northern New Mexico. Today it continues to serve as a Presbyterian-affiliated independent day school. In 1913, The Sisters of St. Francis established the St. Anthony's Orphanage in 1913 on a 91-acre tract west of the Indian School. Each of these schools utilized adjacent lands to raise their own food and teach vocational agriculture. In 1971, the Orphanage property was transferred to the U.S. Department of Labor for use as the Albuquerque Job Corps Center.

A.I.S. Football Team, 1936, from Scrapbook of Wilfred Perrin, A.I.S. student. Note the silos and dairy barn in the background. Photo courtesy of Indian Pueblo Cultural Center Archives and Library.
With the coming of the automobile, the 1904 Territorial Legislature authorized the construction of a statewide north-south highway called "El Camino Real." The North Valley portion of this highway put a new road between Alameda and Fourth Street in New Albuquerque. While sections of this highway remained unpaved until the late 1930s and it was subject to periodic flooding, Fourth Street became the Valley's principal business boulevard. In 1926, it was designated by the U.S. Bureau of Public Roads as part of U.S. Highway 85. It also carried a section of U.S.Route 66 until 1937, when the alignment through Albuquerque was shifted to Central Avenue. Tourist courts appeared along Fourth Street as early as 1916, including the King's Rest at Fourth and Indian School Road. City bus service on Fourth Street was extended to the area in 1921, terminating at Monkbridge, a housing development just north of Candelaria Road.
Monkbridge Manor, 3801 North Fourth Street , ca. 1925.
Photo courtesy of the Photoarchives of the Albuquerque Museum.
Online Dating Photos North Valley New Mexico 2019

North Valley farms benefited from the growth of New Albuquerque, selling fruits and produce to local residents. In the period before World War I, several commercial dairies were established, including Bezemek's, Becker's and Matthew's. In 1921, these dairies established the Albuquerque Cooperative Dairy Association and built processing facilities around Indian School Road and Second Street. This Association became Creamland Dairies, and their plant is still the primary dairy product center for metropolitan Albuquerque. By 1929, there were six dairy operations in the near North Valley.
Aerial view of Indian School Campus looking north, 1938.
Photo courtesy of Center for Southwest Research, University of New Mexico.

As New Mexico's population grew, farming, grazing, mining and logging increased along the Rio Grande watershed. Productive lands became waterlogged and increasingly severe floods occurred. Thousands of acres statewide went out of production during the period from 1890 to 1920. To address this problem, the 1923 State Legislature created the Middle Rio Grande Conservancy District. The District worked with the Army Corps of Engineers to drain standing water, build ditches, create flood control drains and equitably distribute irrigation water. This was accomplished over a ten year period beginning in 1928, and much farmland was returned to productivity. However, the Conservancy's added tax burden contributed to the sale and loss of land by original settlers. The Conservancy's placement of ditches and drains was also a major factor in the irregular development pattern of roads and housing in the Valley. Second Street, built in the 1930's along the Alameda Drain, became the alternate route for Fourth Street traffic. Industrial buildings, warehouses and construction companies tended to cluster east of Second Street, adjacent to the railroad tracks. In 1931, County residents helped to build the new Stronghurst School after the North Fourth Elementary School was annexed into the City.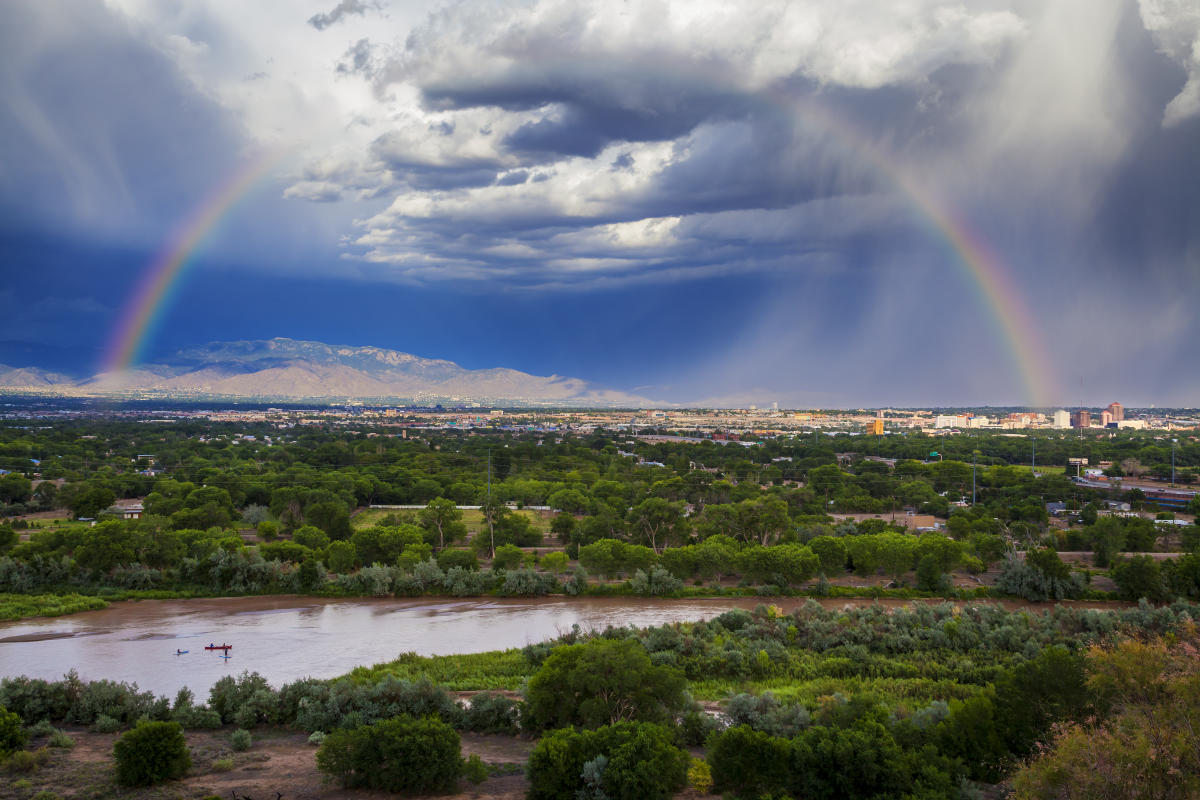 M.R.G.C.D. Dragline Removing Pavement from Fourth Street (U.S. Highways 85 and 66) in April, 1930.
This is the beginning of construction of the Alameda Drain at Matthew. Candelaria Road is at the top of the photo. Photo Courtesy of Middle Rio Grande Conservancy District, Historical Archive.
By the late 1930's, Albuquerque had overcome the worst of the depression, and was experiencing economic growth. It had effectively used federal New Deal funding to develop its infrastructure. Automobile tourism became an increasingly important business, along with the growth of automobile use by local residents. Tourist courts, service stations, auto parts stores and cafes were established along Fourth Street. New homes were being built throughout Albuquerque as World War II brought expanded job opportunities at Kirtland Air Force Base.
Following the war, the expansion of Kirtland Air Force Base and the establishment of the Sandia Corporation brought extraordinary population growth to Albuquerque. In the near North Valley, farms and vacant lands were subdivided, and hundreds of single family homes were built. By 1960, half the current housing stock had been built, and by 1980 few open tracts remained. The area was annexed into the City in the early fifties, and over a hundred locally-oriented businesses were established. The Corley Homes, along the Alameda Drain south of Matthew, was the only large-scale tract home subdivision in the area, dating from the late 1960s. New schools were built (Garfield Junior High School, 1951; Valley High School, 1953; Cochiti Elementary School, 1961.) St. Therese Parish was established in 1950, and soon added a parochial school. The current church was built in 1954. Several churches were built near the Albuquerque Indian Schools to serve the school's students and staff. Queen of Angels Mission and the All Nations Assembly of God are still active churches. The City built public parks near the Indian School (Graves Park) and by the Bernalillo County Extension Service building (4-H Park). Garfield Park was added around 1985, and Los Tomases Park around 2000.
Photo in Albuquerque Progress Magazine.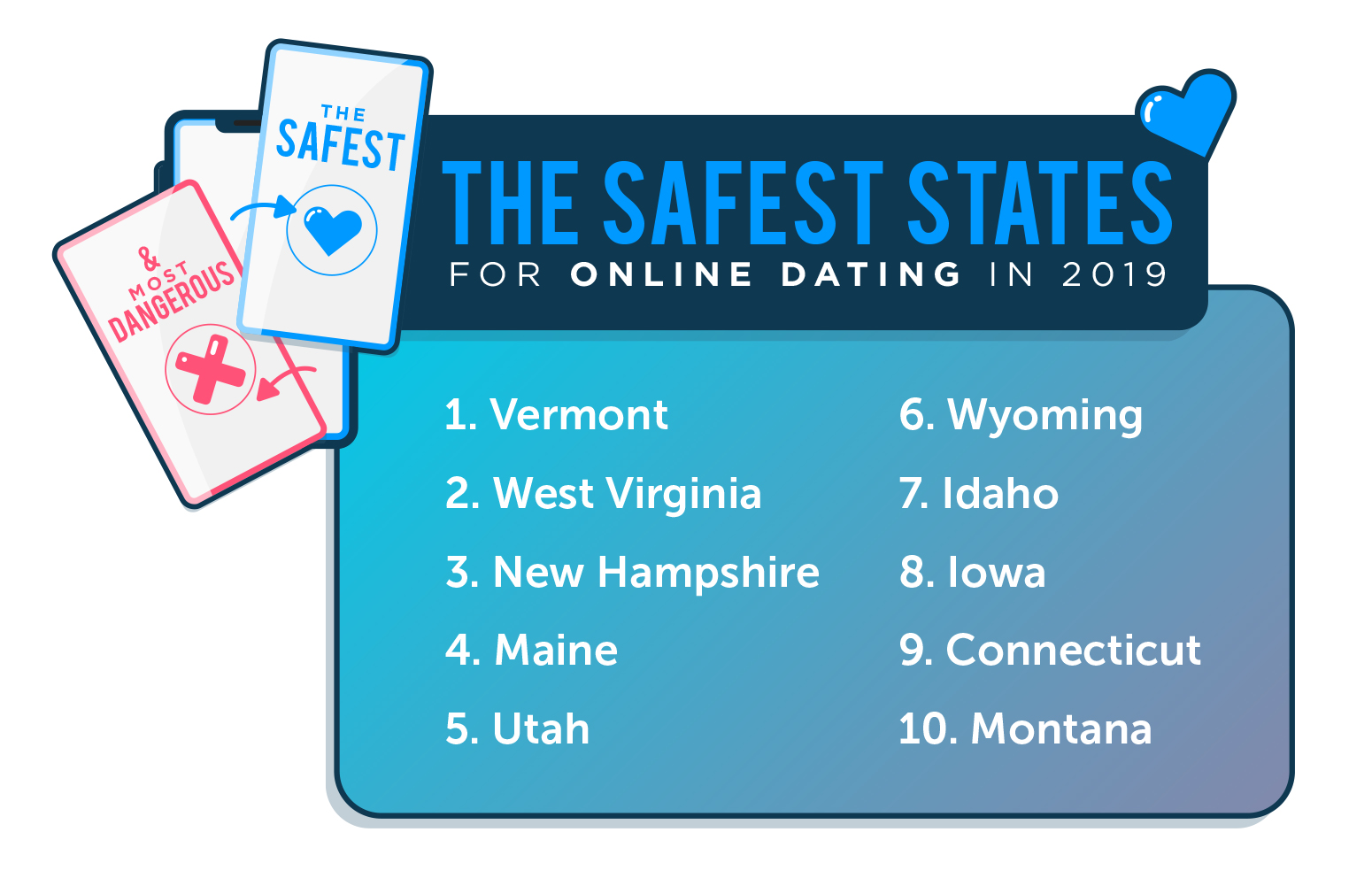 Online Dating Photos North Valley New Mexico Mountains

The creation of the Federal Interstate Highway System in 1956 had a major impact on the character of the Near North Valley. Interstate 25 replaced U.S. Highway 85, removing commercial and tourist traffic from Fourth Street. Interstate 40 displaced parts of Indian School Road, which was then merged into Menaul Boulevard west of 12th Street. By the early 1970's, both Interstates were complete. Highway-oriented national chain businesses were established at the freeway off-ramps. Westway Plaza opened at 12th and Indian School in 1975 with a Woolco department store, a Foodway (later Smith's) Supermarket and a Walgreen's pharmacy. A Globe Discount City store opened at Fourth and Menaul in 1972; it later became a K-Mart. The All-Indian Pueblo Council developed the Indian Pueblo Cultural Center on 12th Street as a major tourist attraction in 1976, on a portion of the federal Indian School property. A Piggly-Wiggly Supermarket (now John Brooks) opened at 12th and Candelaria in 1955; the adjacent property was developed into a neighborhood shopping center around 1965 with a McClellan's Department Store, White's Auto Store, a drug store, the Sportsman's Barber Shop and other stores.
Postcard for Court John, 2700 Fourth Street NW, ca. 1955.
Albuquerque/Bernalillo County Library System.
Online Dating Photos North Valley New Mexico Nm
In the 1980's, economic, demographic and transportation changes produced a period of economic stagnation for the Near North Valley. Infrastructure was neglected as the City extended services to newer areas. The number of locally-oriented businesses declined by half; even the national department stores
(K-Mart, Woolco, McClellan's, White's Auto) closed. Most of the cluster of used furniture stores on Fourth went out of business, while the number of automobile-oriented businesses increased. Both Westway Plaza and the 12th and Candelaria center had continuing turnover and vacancies. Several housing developments filled in the much of the remaining open land with town homes and gated communities. In 2001, the interchange between of I-40 and I-25 was rebuilt, and the I-40 westbound exit ramps and eastbound on-ramps at Second and Fourth Streets were eliminated. This construction and the diversion of the I-40 entry and exit ramps to Sixth Street had a negative impact on many adjacent businesses.
The closing of the Albuquerque Indian School (AIS) in 1981 was the key event in the recent history of the neighborhood. The All Indian Pueblo Council (AIPC), a federation of the nineteen New Mexico Pueblos, took over management of the school from the U.S. Bureau of Indian Affairs (BIA) in 1977. Faced with a deteriorating physical plant, the A.I.P.C. chose to consolidate the school into the Santa Fe Indian School. In 1984, the U.S. Government deeded the AIS property to the nineteen Pueblos. The vacant campus began to decline; the lawns and trees died, vagrants began occupying the buildings and fires destroyed several buildings. The remaining buildings were demolished in 1988 and the Pueblos sought to rezone the property for commercial purposes. In response, in 1989 a group of neighbors led by Rick Miera established the Old Indian School Neighborhood Association. (That Association subsequently broadened its focus and enlarged its boundaries to become the Near North Valley Neighborhood Association.)
In 1993, Secretary of the Interior Manuel Lujan Jr. conveyed title for the 43 acre property to the AIPC. They established the Indian Pueblo Federal Development Corporation (IPFDC) to develop the property. As sovereign Indian trust land, the property was no longer subject to local zoning and other state and local regulations. Concerns about incompatible development, particularly casino gambling, caused a group of neighbors to challenge the development politically and in court. Through the efforts of City Councilor Vince Griego and successive City administrations, IPFDC and the City jointly adopted a Development Agreement for municipal services in 2002. Under this agreement, the eastern half of the campus has become the Southwest Regional Office center for the BIA. Two federal office buildings have been opened, along with a Holiday Inn Express. Development of the western half of the property is proceeding, with a pueblo-style Starbucks, Laguna Burger, Dominos Pizza and Sixty Six Acres Restaurant. Interior streets have been redesigned and built. A plaza is planned on the north side of Turquoise Road. Across 12th Street, the Indian Pueblo Cultural Center added a new East wing, a patio for dining and music, a convenience store and a gas station. Westway Plaza was replaced with a Lowe's Home Center and a rebuilt Walgreen's. To coordinate these developments, the City worked with neighbors and property owners to prepare design guidelines and traffic mitigations in a 12th & Menaul Plan. Two phases of the plan have been implemented, including a roundabout at Indian School and Menaul Extension and improvements to 12th Street between I-40 and Menaul.
The former K-Mart property has been redeveloped into commercial, storage and office properties. Streetscape and traffic improvements were completed around 12th and Candelaria, following a community planning process to develop the Candelaria Village Center as envisioned by the North Valley Area Plan. After a five year effort, the City adopted a North Fourth Street Corridor Redevlopment Plan in 2010. The University of New Mexico Hospital has opened a Family Health Clinic on the site of the former Larry's Drive-In at 4th and Mildred. A bicycle trail along the Alameda Drain is part of a larger trail project. The former Brown Construction Company property at Fourth and Fitzgerald is being developed into mixed use retail and workforce housing. These positive developments promise an improved business climate for the future of the Near North Valley
.
Public Art Shade Structure for Los Candelarias Village Center. Photo by Joe Sabatini, 2010
Online Dating Photos North Valley New Mexico City
Bibliography
Albuquerque/Bernalillo County Planning Dept.
Community renewal program, mid-North Valley district plan: project NM R-12 (CR) / Albuquerque/Bernalillo County Planning Dept, Albuquerque, N.M.: The Dept., 1972.
Albuquerque's environmental story: toward a sustainable community / Joan and Hy Rosner..[et al.] 3rd ed.
Albuquerque, N.M.: Albuquerque Conservation Association, c1996.
xx, 448, A16 p. : ill. ; 28 cm.
Bibliography: p. A4-A6.
Albuquerque: portrait of a western city: many cultures & opportunities / edited by Mary Kay Cline. 1st ed.
Santa Fe, N.M.: Clear Light Pub., c2006.
267 p. : illus.; 23 cm.
Includes bibliographical references and index.
Early Albuquerque: a photographic history, l870-l9l8 / edited by Byron A. Johnson with Robert K. Dauner.
Albuquerque, N.M.: Albuquerque Journal, 1981.
271 p., 5 leaves of plates: ill. (some fold.) ; 23 x 29 cm.
' A joint project of the Albuquerque Journal and the Albuquerque Museum.'
García, Nasario.
Albuquerque: feliz cumpleaños!: three centuries to remember / by Nasario García with Richard McCord.
Santa Fe, N.M. : La Herencia, c2005.
xi, 212 p. : ill. ; 28 cm.
Includes bibliographical references (p. 200-201) and index.
Harrington, E. R.
The Albuquerque public schools / by E.R. Harrington.
[Albuquerque?: E.R. Harrington?], 1963.
146 p.: ports. ; 28 cm.
Historic Albuquerque today: an overview survey of historic buildings and districts / by Susan Dewitt; art editor, Mary P. Davis ; designer, Rachel Abrams.
Albuquerque, N.M.: Historic Landmarks Survey of Albuquerque, 1978.
128 p.: ill. ; 24 cm.
Includes bibliographical references (p.128)
North Valley area plan: Bernalillo County & City of Albuquerque.
[Albuquerque, N.M.: Planning Dept., City of Albuquerque, 1993]
1 v. (various pagings): ill., maps; 28 cm. 'April 1993.'
Adopted in 1993 by the Albuquerque City Council and Bernalillo County Board of Commissioners. Rank 2 area plan. Includes bibliographical references.
Oppenheimer, Alan J.
The historical background of Albuquerque, New Mexico / [by Alan J. Oppenheimer for the City Planning Department]
[Albuquerque, NM: City Planning Dept.], 1962.
58, 22 p.; 29 cm. Bibliography: p. A19-A22.
Preserving the North Valley atmosphere
Albuquerque, N.M.: North Valley Neighborhoods Assoc., 1972?]
[4], 16 p. ill., maps ; 22 x 29 cm.
' The North Valley Neighborhood[s] Association .. has prepared this booklet .. Study by Patricia F. Richards'
Sargeant, Kathryn.
Shining river, precious land: an oral history of Albuquerque's North Valley / by Kathryn Sargeant and Mary Davis.
Albuquerque, N.M. (2000 Mountain Road NW, Albuquerque): Albuquerque Museum, c. 1986.
225 p.: ill., maps, ports. ; 26 cm.
Includes excerpts from interviews conducted during the North Valley Oral History roject.
Sebree, G. Mac (George Mac), 1932-
Albuquerque [bus lines] / G. Mac Sebree.
p. 3-23: ill. ; 28 cm. From Motor Coach Age, Vol. 48, no. 3 (July-Sept. 1997)
Simmons, Marc.
Albuquerque: a narrative history / by Marc Simmons.
Albuquerque: University of New Mexico Press, c1982.
443 p. : ill. ; 24 cm.
Bibliography: p. 417-430.
Various Albuquerque City Directories and Telephone Directories